MITK ReleaseNotes 2014.10
Jump to navigation
Jump to search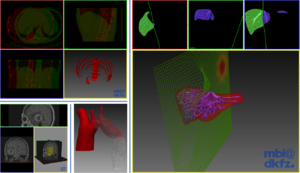 This is the 2014.10 release of the MITK release cycle. The complete list of new features, bug fixes and known issues is down on this page.
What's included?
Binary installers for Windows, Mac OS X and Linux are provided, which contain the MITK Workbench application. In addition to image loading/saving and level windowing, the following plugins are included:
Volume Visualization
Measurement
Interactive Segmentation
Logging View
experimental DICOM Query/Retrieve (based on components from the Common Toolkit CTK)

The following plugins have been newly added in this version:
Optimize and resample your surface meshes
Place seedpoints, correspondences, or landmarks
VOI selection based on various shapes
Easily access views and perspectives & create new perspectives
Create high resolution screenshots of your data
experimental Movie Maker:
Create videos of your data using timeline based animations
experimental Point-based, rigid and manual registration
Please note that the installers do not contain the source code or header files for the precompiled libraries. To develop applications or plugins with MITK please get the source code.
How to get it?
Please have a look at the download page.
Highlights of 2014.10 release
Build system
Support for CMake 3.0
Recommended Doxygen version is now 1.8.7
Mac OS X

MITK Workbench Installers for Mac OS X 10.7+
Full support for MITK development on Mac OS X 10.9
Full support for clang 6.0 compiler
Dropped support for gcc compiler
Core modules
The MitkCore module gained the following new features:
New I/O concept based on new new IFileReader and IFileWriter interfaces
Vector image support has been added to mitk::Image and the ITK access macros
Image read and write accessors together with ITK macros now handle const and non-const mitk::Image instances correctly
Ongoing refactoring of the geometry classes:

New abstract BaseGeometry class
New inheritance of geometry classes
Geometry2D replaced by existing PlaneGeometry
All variables are private now
More information here
The CppMicroServices library now features:
Modules
The following modules were newly added or factored out from existing modules:
DICOMReader and DICOMTesting for advanced reading of DICOM files
DicomRT for handling Radio-Therapy dose images and RT structure sets
LegacyIO containing the deprecated I/O system (this module will be removed again in the future)
QtOverlays containing Qt-based overlays (factored out from the Overlays module)
XNAT (experimental) for accessing XNAT session objects as service objects
Python
Reworked Python-Wrapping: More information here.
Segmentation
The 3D interpolation has been improved in many areas:
Speed-up of interpolation time
Undo/Redo working
Live Wire tool is now also working in combination with the 3D interpolation
Save 3D interpolation as a MITK scene file and reinit interpolation across application restart
MITK Workbench
IGT
New persistence framework to store GUI parameters until next start of the application
New design of the navigation data player
Third-Party Toolkits
The following toolkits were updated:
Boost (1.56)
CTK (65420ed0)
Qxt (3e7424f842d4)
VTK (6.1.0+74f4888)
The following third-party toolkits were added to the MITK superbuild:
Numpy
Eigen
PCRE
Python
SimpleITK
Swig
ZLIB
Deprecated Functionality
The documentation contains a detailed list of deprecated functionality. Please find a summary below:
The previous I/O system has been deprecated and will be removed in the future.
Some MITK macros for C++ unit testing have been deprecated.
The Qxt library will not be included anymore starting with the next release
Early announcement: The next release will be based on Qt5. Qt4 support might be declared deprecated in the next release and dropped in the release after next.
Breaking Changes
Breaking changes related to CTK:
The syntax for specifying library versions when pre-loading them using berry::Platform::ARG_PRELOAD_LIBRARY changed from *libMyLibrary:1.0* to *libMyLibrary$1.0* (fixing a bug when using absolute library paths on Windows).
Breaking changes related to CppMicroServices:
The signature of the usFunctionEmbedResources CMake macro changed.
If a service interface was used in qobject_cast calls (e.g. in the CTK Plugin Framework context) and that service interface does not inherit from QObject and does not provide its own Q_DECLARE_INTERFACE macro, the newly introduced MITK_DECLARE_SERVICE_INTERFACE macro must be used (instead of the US_DECLARE_SERVICE_INTERFACE macro). See this code for an example.
Bugfixes
In the 8 months since the last release more than 400 bugs were fixed.
Not everything could be fixed in time, so here are the most important known issues
New feature list
Complete list of new features since MITK 2014.10: