MITK ReleaseNotes 2012.12
Jump to navigation
Jump to search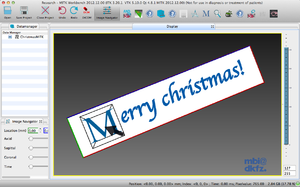 This is the 2012.12 release of the MITK release cycle. This release was primary intended to be a bug fix release. The complete list of new features, bug fixes and known issues is down on this page.
What's included?
There are binary installers for Windows, Mac OS X and Linux which contain the application MITK Workbench. Additional to image loading/saving and level windowing currently the following plugins are included:
volume visualization
measurement
interactive segmentation with

3D Regiongrower
Boolean Operation on segmentations
Deformable Clippingplane

Logging view
experimental DICOM Query/Retrieve (based on components from the Common Toolkit CTK)
Please note that the installers do not contain the source code or header files for the precompiled libraries. To develop applications or plugins with MITK please get the source code.
How to get it?
Please have a look at the download page.
Highlights of 2012.12 release
General:

Upgraded the VTK version to 5.10

BlueBerry

New examples for BlueBerry showing how to customize you application and how to use the BlueBerry extension points

Core library:
Application:

Application icon for Mac OS X is now working
Levelwindow presets for Mac OS X are now working
Levelwindow is no longer bound by image values

Documentation:

New tutorial for how to create your own MITK project

Segmentation:

The 3D interpolation can now be activated by any time
The position node for navigation between the contours are now hidden by default

MITK-IGT:

First experimental version of US module (MITK-US): support of Ultrasound live image processing in MITK
Trackingdevices are now available as micro services all over MITK.

MITK-Tof:

Kinect camera is now working again
micro services for ToFHardware devices

MITK Diffusion:

There will be a new MITK Diffusion release based on MITK 201X.XX soon

Measurement:

Fixed PlanarPath and PlanarPolygon interaction bugs for Mac OS X
Changing the color of the PlanarFigures is now possible

Rendering:

Fixed a bug which sometimes lets the 3 widget remain white
Fixed heuristic of how binary images are detected
Bugfixes
In the 3 months since the last release more than 130 bugs were fixed.
Not everything could be fixed in time, so here are the most important known issues
New feature list
Complete list of new features since MITK 2012.09