MITK ReleaseNotes 2013.12
Jump to navigation
Jump to search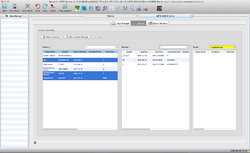 This is the 2013.12 release of the MITK release cycle. The complete list of new features, bug fixes and known issues is down on this page.
What's included?
There are binary installers for Windows, Mac OS X and Linux which contain the application MITK Workbench. Additional to image loading/saving and level windowing currently the following plugins are included:
volume visualization
measurement
interactive segmentation with

3D Regiongrower
Boolean Operation on segmentations
Deformable Clippingplane

Logging view
experimental DICOM Query/Retrieve (based on components from the Common Toolkit CTK)
Also this time there has been a lot of work on improving the MITK IGT library which is available in the MITK source code.
Please note that the installers do not contain the source code or header files for the precompiled libraries. To develop applications or plugins with MITK please get the source code.
How to get it?
Please have a look at the download page.
Highlights of 2013.12 release
General:

Minor VTK version update from 5.10.0 to 5.10.1
/!\ The classes QmitkVtkHistogramWidget and QmitkVtkLineProfileWidget are now deprecated and won't be built with VTK 5.10.1. You can still use a lower VTK version if you need these classes but be aware that with the next MITK release they will be removed completely
Updated CTK to the latest version

Core library:
DICOM

MITK dicom editor's user interface got some improvements and uses now the new ctkDicomBrowsing widgets

MITK-IGT:

This time we put a lot of effort into MITK-IGT. There is separate page with a list of all bug fixes and new features: MITK IGT ReleaseNotes 2013.12

Segmentation:

Added new data structure called mitkContourModelSet which allow the storage of a set of ContourModels. The former mitkContourSet is now deprecated.
Bugfixes
In the 3 months since the last release more than 140 bugs were fixed.
Not everything could be fixed in time, so here are the most important known issues
New feature list
Complete list of new features since MITK 2013.09:
Extend ImageStatistics with line profile widget||