MITK ReleaseNotes 2012.06
Jump to navigation
Jump to search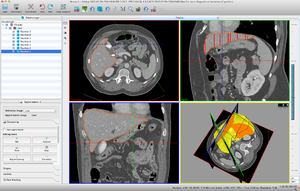 This release is the first in the new MITK release cycle. We decided to change our release cycle to a date based one and will provide releases more regularly in the future.
Since it's a long time since the last official version (0.14) was released a lot of things changed. We tried to summarize the highlights. The complete list of new features, bug fixes and known issues is down on this page.
What's included?
There are binary installers for Windows, Mac OS X and Linux. These installers contain a precompiled application with some basic plugins for visualization, measurement and interactive segmentation. If you build your own application from source there are even more plugins but they are not as thoroughly tested as these ones.
Please note the installers do not contain the source code or header files to use with the precompiled libraries. To develop applications or plugins with MITK please get the source code.
How to get it?
Please have a look at the download page.
Highlights of MITK 2012-06
General:

Version control switched to git
Much simplified build process: Superbuild automatically downloads and builds all external libraries like ITK, VTK, CTK, DCMTK, OpenCV ...
MITK Project Template: much easier project setup for external users
CTK Plugin Framework used in the application framework (BlueBerry) as extensibility layer
Improved shared library size and start-up time with gcc-based compilers (using visibility attributes)
More and better organized examples: Qt-free rendering, application framework features, tutorial steps ...

Core library:

removed dependency to the deprecated IIL library. All images are completely rendered in VTK and performance is increased significantly.
infrastructure for automated testing of rendering classes
high-performance volume rendering including software and hardware acceleration for NVidia and ATI devices.
reworked loading of DICOM CT/MR images, sorting of images into 3D volumes works much more consistent now
standardized exception handling concept for MITK. Detailed information can be found in the MITK documentation in the part MITK concepts.
new mitkExtractSliceFilter, for fast and arbitrary reslicing of images which eases the handling of rotated planes in rendering and interactive segmentation
embedded the C++ micro services project which was developed in the MITK context but can also be used independently, see http://cppmicroservices.org for details. It will be used to replace singletons and factories and enable a more sophisticated runtime extensibility of MITK.
Warning free MITK Core library ( treat warnings as errors on all platforms)

Application:

PACS-like level window interaction mode (activate it in the preferences)
Support for loading data via command line arguments (re-using a running application instance or starting a new one)
Decoupled the default MITK render area (QmitkStdMultiWidget) from MITK application framework components

Documentation:

New and expanded user manual for many plugins
New help framework for the application
New doxygen page bundling more in-depth technical documentation: MITK Concepts

Segmentation:

interactive segmentation on rotated planes
3D interpolation for the interactive segmentation
adaptive region growing
a deformable clipping plane allows you to plan e.g. organ resections
boolean operations: combine/intersect/subtract different segmentations

MITK-IGT:

new classes for tool management
restructured IGT plugins: new example applications e.g. for basic tracking functionality

MITK-ToF:

Module for range data support, allows acquisition and processing of range data acquired by Time-of-Flight cameras and the Microsoft Kinect Device. More info
QmitkToFUtil: Viewer for range data acquired with classes of the ToF modules.

MITK Diffusion

MITK Diffusion 2012 application released
Fiber Processing enhanced (data structures, display and extraction of fibers)
Gibbs Tracking major bug fix allows reconstruction of more fibers
Partial volume analysis allows the export of clustering results as gray scale images

Video support:

new module containing classes for MITK OpenCV Video support. Supports grabbing of video devices and playback of videos in an MITK RenderWindow as well as conversion of OpenCV images to MITK images and vice versa.

Plugins:

new mesh decimation plugin
central examples plugin
central image measurement and statistics plugin
deformable clipping plane plugin
Bug fixes
More than 1200 bugs were fixed since 0.14. Here is a complete list.
Not everything could be fixed in time, so here are the most important known issues
New features
The complete list of new features since 0.14:
| | |
| --- | --- |
| 210 | separate test images from source tree |
| 1041 | Define default segmentation colors for organs |
| 1543 | Implement Wii driver support to open.source part |
| 1559 | Make MITK compile with mingw |
| 1769 | use Logging for MITK-Tracking |
| 1777 | unit tests for navigation pipeline base classes |
| 1779 | Player & Recorder filters for MITK-IGT |
| 1795 | NavigationData to PointSet filter for MITK-IGT |
| 2075 | Add possibility to register application specific command line arguments |
| 2076 | Flexible Layout design |
| 2087 | can not change inputs of NavigationDataObjectVisualizationFilter |
| 2099 | Interface for ToF Camera and Viewer Functionality |
| 2107 | Public Diffusion Module |
| 2112 | Test for mitk::BaseData (mostly) missing |
| 2117 | Add ability to remove inputs from NavigationDataToNavigationDataFilters |
| 2122 | Specify module build system |
| 2145 | LandmarkTransformFilter should tell if it has been initialized |
| 2149 | Check case-sensitivity of module names |
| 2163 | Support the creation of external MITK projects and plug-ins |
| 2185 | Implement test cases for scene serialization |
| 2202 | Interface Rigid Registration should be redesigned. |
| 2208 | create modalityProperty |
| 2209 | enable modality-specific defaultProperties |
| 2210 | Allow segmentation on reoriented 2D slices |
| 2274 | Relocate transfer function initialization into separate class |
| 2278 | Extend mitk::GenericLookupTable |
| 2292 | RenderWindow specific handling of rendering ressources in Mappers |
| 2294 | Support usage of (VTK) shaders in mitk::SurfaceMapper |
| 2311 | PointContainer and PointDataContainer get asynchron when mitk::PointSet::SetPoint() or mitk::PointSet::InsertPoint() are called |
| 2323 | Fix mitkTrackingDeviceSourceTest |
| 2341 | Atlas based segmentations |
| 2369 | synchronization of the mitk DataStorage in multi threaded scenarios |
| 2387 | Portieren der QmitkThresholdComponent nach Qt4 |
| 2410 | Add Pareto-Optimization |
| 2420 | Portieren des QmitkFunctionalityComponentContainer nach Qt4 |
| 2421 | Portieren der QmitkBaseFunctionalityComponent nach Qt4 |
| 2426 | Remove QMITK_EXPORT and MITKEXT_CORE_EXPORT macros from mitkCommon.h |
| 2439 | Pointset loading localization problem |
| 2442 | enhance mitkPointLocatorTest |
| 2462 | preliminary inclusion of vtk 5.5 vtkVolumeTextureMapper3D in Mitk |
| 2481 | Repair ThresholdSegmentation creation in QmitkThresholdFinder |
| 2494 | META: Create usable end-user application / demo (3M3) |
| 2522 | Implement Job Listeners |
| 2595 | Describe recommended property naming scheme |
| 2647 | GDCM2 compatibility |
| 2653 | It is not possible to set an icon for the applications title bar. |
| 2655 | 3M3 Version of Measurement tools |
| 2659 | (Enhance test) Tools cannot be activated twice |
| 2660 | Missing test for mitk::PixelType |
| 2667 | IPreferencePage enhancement |
| 2668 | Add compatibility to new OpenCV 2.0 |
| 2669 | Port Qmitk/QmitkExt to Qt4 without QT3SUPPORT |
| 2684 | Measurement documentation |
| 2693 | Application Frame: Buttons to change between perspectives |
| 2716 | Perspectives Meta Bug |
| 2724 | mitk::ImageWriter should report, if it changes the filename |
| 2727 | Core changes for "(3M3) Make volume visualization more user friendly and usable" |
| 2773 | Application Frame 3M-3 |
| 2787 | use itk::MutexLockHolder to manage mutexes in IGT module |
| 2799 | NDITrackingDevice: active tool management is broken |
| 2807 | Rework CoreObjectFactory inheritance and registration |
| 2893 | Additional vector lengths should be allow by Pixeltype |
| 2901 | Serialisation of Diffusioin Imaging Datatypes |
| 2926 | ScaleBy principal curvature crashes |
| 3004 | Build openCherry standalone |
| 3013 | Port Scanning for NDI Tracking devices |
| 3068 | logging cleanup |
| 3073 | Redesign mitkNavigationDataPlayerTest |
| 3087 | Selected items in PointListWidget does not get a blue selection color |
| 3096 | Automatic adaptation of level window |
| 3098 | mitk::ImageStatisticsCalculator crash on selection of diffusion datasets |
| 3109 | Allow showing of different logos |
| 3138 | Implement enviroment for NavigationToolData |
| 3139 | improve NDIConfigurationWidget |
| 3167 | Create NavigationToolManagementWidget |
| 3170 | MITK public release 0.14 |
| 3177 | Change 2D rendering to use VTK instead of IIL / direct OpenGL |
| 3182 | Thick-Slices in MITK |
| 3188 | CoreApp is starting, but crashes when opening the Welcome view. |
| 3189 | mitkSurfaceToSurfaceFilter lacks a Graft in the CreateOutputsForAllInputs method |
| 3191 | Write Tests for IO-Classes of NavigationToolManagement |
| 3194 | RGBA - Volumerendering support |
| 3203 | Segmentation: No volume or max. diameter info on (lesion) segmentations |
| 3206 | Improvement of Level Window Handling |
| 3208 | BugFix: SetAuto function in mitk::LevelWindow |
| 3209 | BugFix: When the input mitk::PointSet has no points, the computation of the bounding box is taking the 0,0,0 point |
| 3211 | NavigationToolWriter/Reader works only with windows pathnames |
| 3212 | BugFix: When using an empty Itk::Image, mitk::Image crashes |
| 3216 | Volume renderer mapper requires too much time for initializing |
| 3217 | mitk::ApplicationCursor should allow to get/set the mouse position |
| 3225 | Redesign QmitkFunctionality/Basic GUI Module concept |
| 3227 | Measurement bundle should show intensity profile along a section |
| 3228 | Allow to apply translation and rotation independently in ObjectVisualizationFilter |
| 3230 | Documentation for LevelWindow and its context menu |
| 3231 | New Camera Calibration View |
| 3233 | Rename openCherry to BlueBerry |
| 3241 | Create some getting started documentation for the ExtApp |
| 3246 | Look through doxygen documentation |
| 3261 | Aurora Tracking Volume seems to be wrong |
| 3262 | Insight surgery meta bug |
| 3263 | Autocropping segmentations produces offset (due to padding) |
| 3264 | Write an IGT Tracking Logger |
| 3265 | rename TrackingDevice::GetMode() to GetState() |
| 3268 | Beautify XML structure of NavigationDataRecorder |
| 3270 | Rename NavigationDataLandmarkTransformFilter::SetXXXPoints to SetXXXLandmarks |
| 3271 | Rename methods in mitk::NavigationDataObjectVisualizationFilter |
| 3272 | refactor TrackingVolume |
| 3273 | Add epsilon parameter to NavigationDataToMessageFilter |
| 3274 | simple two tool tracking functionality |
| 3275 | remove the org.mitk.gui.qt.sceneserialization bundle |
| 3276 | Add "volume" property to ImageStatistics |
| 3278 | Diasbling and Re-enabling Image Navigator resets views |
| 3282 | Build system modules for registration code |
| 3284 | Windows Installer Package error since some blueberry changes |
| 3287 | No level window after loading a project file |
| 3295 | PointListWidget should allow editing of points by textedits |
| 3296 | SliceControllers should notify listeners about slice rotation |
| 3297 | Add a MultipleSegmentationsToMultiLabelPicture filter |
| 3302 | The build system allows for too old doxygen installs when Qt help generator is used |
| 3303 | Links in the error view part cannot be clicked |
| 3304 | Write a unit test for view destructors on window close |
| 3306 | Create own module for MITK video support |
| 3315 | Suppress invalid read in DataTreeNodeFactory |
| 3336 | mitkSceneIOTest fails randomly |
| 3341 | Extend RenderingManager with Property list |
| 3342 | Make RenderingManager multi-instantiable |
| 3343 | memcheck errors in mitkNavigationToolReaderAndWriterTest |
| 3346 | Check merging of clean segmentation module into 3M3 branch |
| 3349 | Rename "Log View" to "Logging" |
| 3350 | Rename editor "Standard View" |
| 3360 | ImageNavigator Button is not consistent |
| 3362 | Warning free MITK |
| 3363 | QmitkMeasurement: Ocassionally, planar figures cannot be edited any more |
| 3366 | Manual Registration should provide sliders for scaling |
| 3367 | create IGT recorder/player view |
| 3368 | Doxygen should offer a search bar for quick documentation navigation |
| 3371 | Do not listen to null selections by default in ISelectionListener |
| 3382 | Clean polydata after .stl import |
| 3388 | ImageNavigator TimeSlider stops at slice 56! |
| 3393 | Beautify created polygon models |
| 3400 | Tab order and selection is not saved on app shutdown |
| 3402 | Transversal Slider in Image Navigator |
| 3424 | Change org.mitk.gui.qt.regiongrowing to match bundle template closely |
| 3425 | Selection related crashes in subclasses of QmitkFunctionalities |
| 3427 | BundleGenerator should create better defaults |
| 3440 | There is no progress bar when loading DICOM images with the DICOM browser |
| 3443 | New segmentations are not selected in DataManager |
| 3451 | Rename DF Reader |
| 3456 | IGT example documenation has two icons and two summaries |
| 3461 | mitkNavigationToolReaderAndWriterTest fails |
| 3462 | ExtFileOpenAction throw unnecessary LOG Message |
| 3463 | It should be possible to draw overlays |
| 3471 | Complete User Style Guide in Doxygen |
| 3472 | Default view of 3D object is wrong |
| 3473 | Crash after closing Surface Material Editor |
| 3475 | ITK Warning appears after closing statistics |
| 3493 | Make MITK compatible with VTK 5.6 |
| 3497 | Seperate Decimation from Surface Creation in ImageToSurfaceFilter |
| 3502 | install CDash on mitk.org and change site for dart clients |
| 3504 | QmitkVtkLineProfileWidget and QmitkVtkHistogramWidget derive both from QDialog and itk::Object |
| 3577 | mitk::StandardFileLocations::FindFile doesnt behave as documented |
| 3619 | Implement PlanarFigure for measuring double diameters |
| 3628 | Implement PlanarFigure for annotation arrows |
| 3659 | Object::disconnect: Unexpected null parameter in QmitkNodeDescriptor |
| 3669 | Cleanup some classnames |
| 3686 | Data Storage Editor Input can not hold a single Data Storage |
| 3688 | Geometry3D::BackTransform(const Point3D&, Point3D&) slows down 2D mappers |
| 3690 | QmitkStdMultiWidget click Event |
| 3698 | Wrong dependence fromt QtDicomBrowser and QmitkDICOMBrowser view to DicomIndex |
| 3700 | DICOM tests |
| 3707 | Add distinct interactors for panning, zooming, scrolling and LevelWindow |
| 3709 | Rename "delete" to "remove" in DM right mouse menu |
| 3722 | Some DICOM images are incorrectly loaded because of the PixelType |
| 3726 | VirtualTrackingDevice crashes when it is destroyed before the tracking thread is initialized |
| 3736 | there is no welcome content |
| 3785 | Missing icon for bundle "Colour Image Processing" |
| 3786 | Rendering of PlanarFigures should be more configurable |
| 3787 | not possible create a new bounding box after deleting it in the image cropper |
| 3822 | Make RenderingManager and GlobalInteraction multi-instantiable |
| 3833 | Failing updates should enable commit block |
| 3837 | Build instructions for MITK with OpenCV |
| 3841 | Thresholding in BasicImageProcessing crashes when Lower TH > Upper TH |
| 3859 | Zooming and panning should be constrained within reasonable bounds |
| 3893 | [Dashboard] dartclient failed to pass mitkBaseDataTest |
| 3959 | Decide on default behavior for zooming/panning in MITK |
| 3963 | Adaptions for Linux compatibility |
| 3983 | allow moc-ing / add MOC_H_FILES for test drivers |
| 4010 | Icon for delete all button |
| 4016 | Make PlanarFigure objects pickable |
| 4017 | Allow segmentation on 2D images |
| 4036 | Bundles can only depend on modules, not packages |
| 4039 | Zoom to curser instead of the center of the screen |
| 4047 | clean up NDIConfigurationWidget |
| 4062 | remove RenderingManager::GetInstance from additional classes |
| 4064 | BaseRenderer::GetRenderingManager should be const |
| 4071 | Add additional StateMachine to Statemachine.xml |
| 4095 | memcheck errors in mitkNavigationToolTest |
| 4104 | Update Timer Widget |
| 4121 | mitkSceneIOTest should create unique file names |
| 4122 | mitkPlanarFigureIOTest should create unique file names |
| 4126 | PlanarCross should be constrained so that lines always intersect |
| 4128 | Exchange right-mouse-button with double-click for PlanarFigureInteractor |
| 4146 | Status bar should be visibility dependent |
| 4154 | Check for update on TinyXML |
| 4161 | add a StateMachine to StateMachine.xml for LevelWindow-Interaction on left-mouse-button |
| 4165 | QmitkRenderWindow should offer to disable scrolling with the mouse-wheel |
| 4179 | Region Grower Bundle should set segmentation as child node |
| 4184 | Dynamic fill drop-down box list in BasicImageProcessing |
| 4206 | QmitkIGTLoggerWidget: recording a specified number of positions |
| 4211 | Expandimg IGT ToolPairNavigation |
| 4216 | Creating planarFigures with double click produces invalid planarFigures |
| 4217 | PlanarCircle is not rendered correctly |
| 4219 | MITK crashes after use of ImageStatistics |
| 4296 | add additional StateMachine for scrolling using middle mouseButton and mousemove |
| 4325 | reset plane-interaction on reset-clicked in QmitkRenderWindowMenu |
| 4332 | resetting view after swivelling does not correct the number of slices |
| 4335 | Planar figures should always be drawn on topmost visible image in measurement |
| 4471 | Widget for visualisation of tracking tool status |
| 4519 | mbilog.lib not included automatically |
| 4555 | MITK about dialog is copy pasted from 3M3 |
| 4584 | Unused line of code in QmitkIGTExampleView |
| 4591 | NavigationDataPlayer depends on line endings for reading xml navigation data |
| 4592 | BasicImageProcessing and DeformableRegistration depend on DiffusionImaging |
| 4601 | the popup for selecting the bounding object blocks application |
| 4650 | Create a sample application showing interaction between MITK,ITK and VTK for transfering it into a corresponding python script |
| 4667 | Method to perform index to world transform |
| 4724 | Add a test for mitk::BoundingObjectCutter |
| 4725 | Add list of header files of Adaptor Classes to the respective module description and functions |
| 4735 | Qt-independent render window example |
| 4736 | no bounding box available when only one image is selectable |
| 4740 | Strange category name "@ @PLUGIN_ID@ Plugin" in doxygen |
| 4767 | Build ITK 3.20 |
| 4769 | Measurement to PlanarFigure dependency |
| 4810 | Inserting new nodes at the front or the end of the DataManager list should be a preference |
| 4811 | Create qhc files automatically |
| 4837 | mitkRenderWindowBase does not support multiple RenderingManagers |
| 4860 | SliceNavigationController shows way too many positions after decimal point |
| 4872 | No descriptor for images that are not binary |
| 4943 | IGT Filter for 1 or >3 reference inputs registration needed |
| 4946 | Widget with checkboxes for tracking tools |
| 4965 | Port and redesign 3D Connexion Mouse support |
| 4991 | RenderingManager: Possiblity to use multiple managers |
| 5038 | QmitkTextOverlay takes too long to update the text |
| 5040 | Levelwindow does not work with tutorial Step4 |
| 5041 | option for showing "helper objects" in datamanager view |
| 5046 | Add optional usage of VTK 5.6 OpenGL GPU Volume Raycaster |
| 5047 | Build and test OpenCV 2.1 |
| 5048 | It is not possible to load mhd files with File->open |
| 5059 | QmitkScalarBar can get larger than its parent |
| 5092 | Adding boolean property for rendering behaviour |
| 5093 | New property for mitk::Image |
| 5130 | mitkImageTest does not correctly check GetPixelValueByIndex |
| 5134 | (Diffusion Imaging) Tracking of fibres using diffusion MRI Images |
| 5138 | Possible crash caused by QmitkScalarBar if ScaleFactor is too small |
| 5160 | Poco Fehler beim Übersetzen mit VS 2010 |
| 5229 | Remove Poco Dependency of SceneSerializationBase |
| 5267 | [Vesseltree Segmentation] cursor doesn´t change when view is deactivated |
| 5281 | Evaluate using release-crt-runtime-libs of visual studio also for debug MITK builds |
| 5284 | Include ShapeModelEvaluator |
| 5286 | Python wrapping for MITK classes |
| 5297 | Add support of changing tracking volumes for NDI Aurora (++) |
| 5320 | Documentation of MITK geometries |
| 5420 | Make PlanarFigures pickable |
| 5488 | Need a function to set color at any voxel |
| 5505 | NodePredicateSource is not implemented. My implementation is included in attachment. |
| 5524 | Modules selection should be configurable directly |
| 5529 | Add Tutorial Step on Interaction |
| 5542 | Support RGB Colormaps with opacity |
| 5875 | Enhance the transfer function widgets to support floating point values |
| 5919 | Adding widget to manage point correspondences |
| 5940 | Compression would be nice on all written files |
| 5999 | mitk::ImageStatisticsCalculator should be able to deal with masks smaller than the input image |
| 6008 | Enable selection of render windows for ODF rendering/visualization |
| 6047 | Add DataNode dependent PointSetInteractor |
| 6307 | Write tutorial for MITK-ToF |
| 6369 | ToF: Do not use "0" as range value after thresholding |
| 6370 | ToF: Allow for using range image as texture |
| 6376 | Image Cropper View usability enhancements |
| 6378 | add a user manual default page to the bundle generator |
| 6417 | Allow contouring for rotated slices |
| 6467 | Transversal slice scrolling with Wiimote Headtracking |
| 6544 | Wiimote IR Headtracking |
| 6591 | Writing a filter which can extract the boundary points of each contour drawn into a slice |
| 6593 | Interpolation of 3D surfaces out of contours drawn with the segmentation tools |
| 6788 | There is no possibility to save the geometry of an arbitrary oriented plane |
| 6886 | IGTPlayerWidget - widget for playing NavigationData |
| 6947 | Write a filter that reduces the number of points which are incorporated into the interpolation |
| 7014 | Create a CTest Dashboard Script |
| 7069 | Writing a filter that computes the normals for the points of a contourset |
| 7077 | synthetic image creator |
| 7099 | allow writing diffusion images in fsl file format |
| 7101 | Allow the image statistics view to calculate stats while ignoring zero-valued pixels |
| 7286 | implement unit test environment for tracking devices |
| 7294 | Documentation for DICOM loading tests |
| 7339 | Provide DICOM tags as MITK properties of mitk::Image |
| 7447 | Create IGT-Bundle TrackingToolbox |
| 7528 | Test DICOM tags loading for mitk::Image properties |
| 7620 | Expect GDCM 2.0.14 minimum for DICOM loading |
| 7658 | Saving of planar figures not possible |
| 7741 | New logging features for IGT TrackingToolbox |
| 7809 | Add installer script mode |
| 8054 | Enable mbits compile |
| 8056 | NavigatonDataPlayer Bundle |
| 8120 | Implement IGT connection widget |
| 8124 | Swissranger integration |
| 8131 | Remove "Enabled/Disabled" mechanism from property system |
| 8160 | Reduce property serializers and deserializers to a single class in each case |
| 8259 | Use the CTK plugin framework |
| 8292 | Allow to use LookupTable opacity values |
| 8311 | Add filter to apply hand eye calibration to a surface object |
| 8317 | Improve test of mitkTrackingVolumeGenerator |
| 8357 | Move calibration classes to own calibration module |
| 8359 | Implement binary outline by means of VTK |
| 8396 | TrackingToolBox: Implement auto-detection of aurora tools |
| 8429 | Port IGTTrackingToolbox & IGTNavigationToolManagement to CTK |
| 8448 | Convert bundle IGTTutorial to CTK |
| 8495 | Move methods for assessing focal length and principal point out of the for loops |
| 8505 | Implement class PlanarSubdivisionPolygon |
| 8520 | Improve test of mitk::NavigationToolStorage |
| 8534 | Enable omitting views in application window menu |
| 8535 | Drag/Drop Scene Files |
| 8537 | Allow dartclients with BUILD_TESTING=OFF |
| 8554 | MITK DTIAtlasApp - Executable to accompany the Springer DTI Atlas |
| 8664 | Implement ClippedSurfaceBoundsCalculator |
| 8686 | Remember Save-File Path |
| 8703 | Enable selection/deselection of tests with long runtime |
| 8747 | Enhance ToFProcessingCommon |
| 8756 | Synchronize ODFDetailsView with multiwidget and use according properties |
| 8775 | Publish Global Tracking Open Source |
| 8784 | Add convenience methods for coordinate transformation to ToFProcessingCommon |
| 8792 | Implement NavigationDataEvaulationFilter |
| 8824 | move mitkFiberBundleMapper2D opensource |
| 8899 | Provide a possibility to deselect certain bundles through cmake |
| 8928 | Extend the regiongrowing example plugin |
| 8974 | Change TractsToFiberEndingsImage filter output |
| 8977 | New ipPic-Free design of PixelType |
| 8987 | Change global tracking output to vtkPolyData |
| 9000 | Tbss Image type |
| 9030 | incorporating immediate visualization of fibers |
| 9031 | helper bundle for developing and evaluating fiberstructure |
| 9067 | Integrate 3D Surfaceinterpolation in Segmentationbundle |
| 9080 | Implement new descriptor objects for mitk::Image |
| 9081 | Restructuring of the manual segmentation tools |
| 9121 | mitkDisplayVectorInteractorScroll should invoke events when the interaction starts and ends |
| 9122 | MITK Diffusion Imaging App |
| 9125 | Add button to manually set points in image point set |
| 9141 | Preference added for showing/hiding the level/window widget |
| 9142 | set up dicom import perspective for DiffusionApp |
| 9143 | set up preprocessing and reconstruction perspective for DiffusionApp |
| 9144 | set up fiber tracking perspective for DiffusionApp |
| 9145 | set up quantification perspective for DiffusionApp |
| 9146 | set up ivim perspective for DiffusionApp |
| 9147 | set up tbss perspective for DiffusionApp |
| 9148 | set up screenshot and movies perspective for DiffusionApp |
| 9149 | set up volume visualization perspective for DiffusionApp |
| 9150 | Publish IVIM view open source |
| 9152 | Publish PV analysis view open source |
| 9154 | Publish stochastic tracking view open source |
| 9156 | Set up master view for DiffusionApp |
| 9175 | Need to downsample time of flight distance images to test whether this speeds up the AICP |
| 9181 | Own workbench window for the project template |
| 9221 | Use FindOpencl.cmake script to find the opencl libraries |
| 9248 | Add -fvisibility=hidden to gcc flags for MITK modules |
| 9255 | Allow loading of .nrrd and .pic.gz images in ToFConnectionWidget |
| 9265 | Deformable Clipping Plane Plugin |
| 9279 | ODF Details view is not working with DTI |
| 9282 | Rename Global Tracking to Gibbs Tracking |
| 9286 | Segmentation bundle code review and clean-up |
| 9317 | Cleanup ExtractDirectedPlaneImageFilter |
| 9318 | Remove duplicated Code from mitkImageVtkMapper2d and mitExtractDirectedPlaneImageFilter |
| 9319 | Bring together mitExtractDirectedPlaneImageFilter and mitExtractDirectedPlaneImageFilterNew |
| 9321 | mitkExtractDirectedPlaneImageFilter - only one class should be responsable for imageextraction |
| 9392 | Show changes during move action in SurfaceDeformationInteractor3D |
| 9404 | Implement DTI to QBI image filter |
| 9516 | Provide different modes for fiducialRegistrationWidget |
| 9537 | Enhance PlanarCircle to enable possibility to set min and max radius for circle |
| 9658 | move mitkBilateralFilter from ToFProcessingMBI to Core/Code/Algorithms |
| 9703 | Implement automatic particle weight estimation |
| 9731 | Tbss open source |
| 9901 | odf details view |
| 9907 | Provide DICOM-Level/Window-Information to applications (and use it by default) |
| 9910 | Implement a simple ToF viewer |
| 9911 | Redisign ToFUtil |
| 9959 | Implement a property to apply vtkColorTransferFunction on images |
| 10017 | New tracking volume models for NDI-Aurora |
| 10048 | Enable fiberbundleX with fast fiberextraction |
| 10101 | add reset method for mitk::Transform |
| 10116 | FiberBundleX integration branch |
| 10134 | Allow mask segmentation in ToFCompositeFilter |
| 10142 | enable colorcoding for FiberbundleXMapper2d |
| 10143 | Support for Header-only modules in MITK? |
| 10186 | incorporate stochastic tracking into new fiberbundle/tracking framework |
| 10200 | Simple Tool Selection Widget for IGTUI |
| 10211 | Enable FiberBundleX for Fiber Processing View |
| 10276 | Clean up the mitk bundle list |
| 10277 | Create central IGT bundle |
| 10278 | Create central IGT learning bundle |
| 10279 | Create central registration bundle |
| 10282 | Create central image measurement and statistics bundle |
| 10285 | Create central MITK examples bundle |
| 10303 | Create wizard widget for creation of navigation tools |
| 10305 | Add auto scan of ports to TrackingDeviceConfigurationWidget |
| 10338 | Provide the segmentation with a 3D regiongrowing |
| 10371 | Add a second style of mouse interaction to CoreApp |
| 10377 | Progress of opening a project is not shown |
| 10385 | Create separate view for skeletonization and projection |
| 10454 | Qt overlays for render windows should use a drop shadow for readability |
| 10499 | FA based color coding |
| 10668 | Dwi Quality Evaluation |
| 10683 | Build installer of IGTTracking for SPIE 2012 |
| 10777 | Load files given as command line arguments |
| 10778 | Implement an additional segmentation view for boolean operations |
| 10821 | Calibration File should be set by the user for Microntracker tracking system |
| 10827 | free_water_extraction |
| 10833 | Better segmentation bundle usability |
| 10835 | Enable backface culling for MITK surfaces |
| 10878 | NavigationDataEvaluationFilter: new method to get logged data |
| 10955 | DICOM Query retrieve functionality for MITK |
| 10956 | Import DICOM data using the ctkEventBus |
| 11022 | implement further diffusion image processing mechanisms |
| 11031 | Dicom import fails to load autism datasets |
| 11125 | 3D Interpolation should have a progress bar |
| 11215 | beautify log console |
| 11354 | Exception handling for MITK: exception base classes and documentation how to use them |
| 11514 | Move connectomics open source |
| 11615 | Use CTK with increased max vertex degree in DGraph utility |
| 11682 | Clustering result should be exportable for IVIM analysis |
| 11783 | Create new Overlay that holds a custom widget |
| 11796 | provide a possibility to crop an image using a binary image as mask |
| 11838 | move the mesh decimation plugin to the open source MITK |
| 11895 | Clang support for hidden visibility |